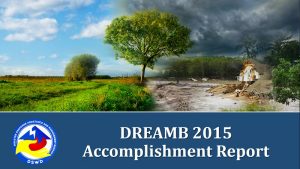 INTRODUCTION
The disaster incidents that hit the Philippines became complex, frequent, massive and unpredictable through the years. In November 2013, a Super Typhoon locally called Yolanda made landfall and affected millions of families. Due to the said incident, the Department of Social Welfare and Development (DSWD) enhanced its Disaster Risk Reduction and Management (DRRM) efforts in accordance with its mandated role as the Vice Chair for Disaster Response with reference to Republic Act 10121 also known as the Philippine Disaster Risk Reduction and Management Act of 2010.
In 2015, DSWD further enhanced disaster response initiatives by establishing a bureau that focuses on DRRM programs, activities and projects of the Department. The existing offices namely Disaster Risk Reduction and Response Operations Office (DRRROO) and Disaster Response Operations and Information Center (DROMIC) were merged into one bureau, creating Disaster Response Assistance and Management Bureau (DREAMB) as stipulated in Administrative Order (AO) No. 2 series of 2015 effective March 2015. Furthermore, Disaster Response Operations Guidelines were developed to indicate the factors and requirements for an agency-wide response. Also included in the guidelines are the roles and responsibilities of each Office, Bureau, Service, and Unit (OBSU) for every alert level. This was approved by the Secretary and released as AO 3 series of 2015.
In order to facilitate the transition of the two (2) offices, a series of Business Process meetings were held. The activity focused on the roles of each staff in order to attain the goal of the bureau in line with the Department's Social Protection (SP) Framework. A strategic planning workshop was held in May 2015 that produced DREAMB's logical framework using Theory of Change (TOC) to help the bureau in prioritizing its programs, activities and projects. In addition, a series of organizational development initiative was conducted to determine the appropriate and effective number of employees suitable towards an effective and efficient disaster response workforce.
Aside from the foundational activities of DREAMB, the bureau performed its roles and responsibilities on disaster-related inter-agency meetings, trainings, seminars and operations support. Moreover, DREAMB representatives conducted field visits to provide Technical Assistance and Resource Augmentation (TARA) support to affected DSWD Field Offices (FOs). The DSWD, as the Response Cluster Lead, participated in the National Disaster Risk Reduction and Management Council (NDRRMC) Disaster Preparedness for Response activities such as Black Nazarene Traslacion, Papal Visit, El Niño, Semana Santa, Undas, and Asia-Pacific Economic Cooperation (APEC) Summit 2015.
ACCOMPLISHMENTS ALONG MAJOR FINAL OUTPUTS (MFOs) AND LOCALLY FUNDED PROGRAMS/PROJECTS
Major Final Outputs (MFO)
Major Final Output 2: Social Protection Services
The Department assumes 2 roles in every disaster incident. This includes the inter-agency coordination during disaster response through the NDRRMC Response Pillar and provision of Social Protection services including relief assistance, evacuation camp coordination and management, and Internally Displaced Person (IDP) Protection. In 2015, there were 7 major natural disasters including Tropical Storm (TS) Amang, TS Chedeng, TS Dodong, TS Egay, TS Ineng, Typhoon (TY) Lando, and TY Nona and 2 major human-induced disasters including armed conflict in ARMM and civil unrest in Surigao del Sur and Davao del Norte. From the different monitored and reported incidents from January to December 2015, the total affected were 1,942,141 families or 8,606,922 persons of which 696,807 displaced families or 3,126,155 persons were served. The DSWD provided a total of ₱358,201,168.07 worth of relief assistance during disaster response.
Prior to any disaster incident, FOs preposition food and non-food items at different Local Government Units (LGUs) as part of the Disaster Preparedness for Response while ensuring FO stockpile accounts to 30,000 Family Food Packs (FFPs) at any given time. Furthermore, FO should maintain standby funds amounting to ₱3,000,000.00 to replenish the distributed FFPs during disaster operations.
Continuous enhancement of the Family Food Packs was initiated to provide adequate and appropriate nutritional value in compliance with the guidelines provided by the National Nutrition Council. Currently, a FFP contains 6 kilograms of rice, 4 cans of corned beef, 4 cans of sardines, and 6 sachets of coffee or cereal mix. A proposal to enhance the contents of the FFP was approved by the Secretary in June 2015. The contents of the enhanced FFPs are still under study to ensure that the contents address the nutritional needs of the IDPs.
There was a continuous monitoring and validation of rehabilitation programs and projects for the communities affected by TY Pablo, STY Yolanda, Bohol Earthquake, and Zamboanga Siege. Also, guidelines for the rehabilitation projects of TY Ruby was recently approved and for implementation in 2016. Aside from the rehabilitation guidelines, series of meetings and workshops with the Australian Department of Foreign Affairs and Trade (DFAT) were conducted to enhance the current Disaster Response Operations Guidelines into a DSWD Disaster Response Operations Manual.
Major Final Output 3: Capability Building Services
DREAMB continuously provided TARA for the disaster-affected FOs. Representatives from DREAMB conducted field visits during the recovery phase of each major disaster and upon request of the FOs to ensure that the Food and Non-Food Items (FNFI) provided to the affected families were intact and were in good condition. TARA is also provided upon the delivery of funds to the FOs for the management and maintenance of a rented warehouse. Logistical support is part of the assistance to the FOs especially in the height of disaster response. The Philippine International Trading Corporation (PITC) procurement of relief goods was through the TARA provided by the Central Office to the FO.
In line with the Camp Coordination and Camp Management (CCCM) and IDP Protection mandates of DREAMB, TA was provided through the validation of affected families inside the evacuation centers including the provision of child and women friendly spaces. Access areas for the Persons with Disability (PWDs) were also ensured inside the evacuation centers.
Basic Facilitator's Training Course on Mental Health and Psychosocial Support during Crises, Emergencies and Disasters was provided to representatives from the different OBSUs of the Central Office (CO) and disaster response focal persons of the FOs on the second and third quarters of 2015. This training was provided in order to capacitate the members of the Quick Response Teams (QRTs) of the CO and FO.
DRRM Programs, Activities and Projects
Relief Assistance is the provision of Food and Non-Food Items (FNFI) to the disaster affected families. DSWD provided ₱358,201,168.07 worth of relief assistance to 696,807 affected families in all regions. It was ensured that the IDPs inside and outside the evacuation centers were provided adequate assistance to sustain their basic food and shelter needs.
Cash-for-Work (CFW) is a short-term intervention which provides transitional support and citizenship building through temporary employment in exchange for community works participated and/or trainings either along disaster mitigation, preparedness, response or early recovery and rehabilitation initiatives to provide alternative source of income to the families. DSWD provided ₱7,737,030,476.00 worth of financial assistance to 520,002 affected families in Regions I,II, III, IV-A, IV-B, V, VI, VII, VIII, IX, X, XI, XII, NCR, CAR and ARMM.
Transitional Shelters is the provision of safe and dignified living conditions of disaster-affected families. DSWD provided 1,386 shelters in partnership with International Organization for Migration (IOM) in Regions VIII and IX.
Emergency Shelter Assistance (ESA) is the provision of emergency "self-build" shelter assistance through limited materials or financial assistance to augment resources of affected families who opted not to be transferred to a resettlement site. ESA enables them to purchase shelter materials required in the construction or repair of damaged houses which were partially or totally destroyed as a result of natural or man-made disaster/calamity. DSWD provided ₱18,778,410,000.00 worth of financial or material assistance to 1,015,737 families in Regions IV-B, VI, VII and VIII with damaged houses due to STY Yolanda.
Core/Modified Shelter Assistance Program (C/MSAP) is the provision of environment-friendly, structurally strong shelter units that can withstand up to 220 kph wind velocity, earthquakes up to intensity 4 of the Richter scale and other similar natural hazards in relocation sites provided by the national or local government units and using locally available materials to revitalize local economy. DSWD provided 74,567 shelter units worth ₱5,278,560,000.00 in partnership with UN Habitat, Habitat for Humanity and LGUs in Regions I, II, III, IV-A, IV-B, V, VI, VII, VIII, X, XI, XII, CAR and ARMM as of 31 December 2015.
CONCLUSION
Given the organizational changes and the surge of natural and human-induced disaster incidents in 2015, the DREAMB was able to achieve the 2015 goals in line with the DSWD Thrust and Priorities. The Bureau took the lead in DRRM activities from disaster preparedness for response, response to recovery and rehabilitation. From the provision of relief assistance to recovery and rehabilitation assistance, DREAMB ensured that premiere efforts were provided to the affected families by each disaster incident.
RECOMMENDATION
In order to address the challenges of project implementation, the DREAMB recommends that the decision making should be evidence-based and in congruence to the Department's guidelines as observed by the Executive Committee (EXECOM) and political leaders. Also, policy review and enhancement of government auditing rules and regulations on partnerships and fund utilization needs to be conducted. Programs, activities and projects should be consistent with the Department's mandate (i.e. shelter assistance, construction of transitional shelters and evacuation centers). The delivery of augmentation support for response needs to be further developed through well-established partnership with stakeholders and according to the approved disaster response operations guidelines. Furthermore, CO and FOs need to build on capacity and resources for FNFI, CCCM and IDP Protection for augmentative and assumptive functions. In line with capacity building, a regional disaster response plan should be developed based on different hazards and necessary planning should be done to minimize the effects of the disaster incidents. An agency-wide DRR system and mechanism needs to be set up, tested and further enhanced to include the harmonization of disaster data and information system. Furthermore, a complete and skilled staff complement should be in place in order to help the DREAMB in providing appropriate, efficient and comprehensive DRRM interventions.